The Duke and Duchess of Cornwall will be in St Mawes on Friday the 11th of July to officially name the new St Mawes pedestrian ferry.
The new ferry, owned and operated by Cornwall Ferries (part of King Harry Ferry) will be named by Camillla, Duchess of Cornwall. As part of their visit Prince Charles and Camilla will be meeting children from the local primary school, local business owners and perhaps onlookers and visitors.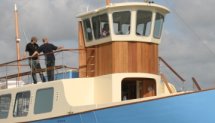 The new ferry has been hand built using traditional methods and techniques by Cockwells of Penryn. Already in service, the ferry is proving a success and boasts a top speed of 16 knots!
Visitors coming to St Mawes on Friday should be aware that vehicular access to the centre of St Mawes will be restricted, and it would therefore be prudent not to try to drive through the village. Car parking will be available, as usual, at the main village car park.
The Goon Squad will be out in force, so loud threatening behavior would defiantly not be advised.. or you could be getting removed from the area by the Royal Spooks!